Sustainability: Batteries & Solar | Water | Heating
---
Batteries | Consumption | Battery Recharging | Solar Charging | How Long Without Sun? | Alternate Charging Options | Solar Regulators | The Bottom Line
---
---
Off the grid?
For many, the 'holy grail' of the Campervan / Motorhome experience is to be fully self-contained and self-sufficient, camping in remote locations while still embracing all the domestic conveniences of home.
The availability of affordable solar panels and large capacity batteries, along with advances in LED lighting technology, has made 12V electrical sustainability readily achievable – providing reliable off-grid power for refrigeration and lighting. In addition to these basics, modern power inverters have become more efficient and affordable, providing the option to run 230V AC domestic appliances from your 12V (Lithium) batteries when free-camping.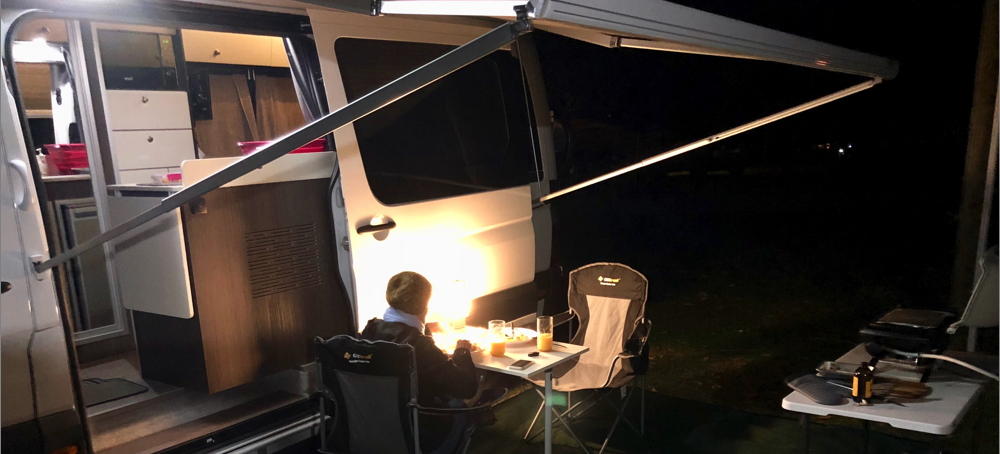 Appliances in our van are powered by:
Electricity (12V or 230V);
Liquified Petroleum Gas (LPG) or;
Diesel fuel, from the vehicle's main fuel tank.
This section discusses the provision and maintenance of our 12V electricity supply.
---
Our 12V power is supplied by:
2 x 120 Ah LiFePO4 (Lithium) batteries.
(This is a recent upgrade, from 2 x 100Ah AGM batteries.)
Our batteries can be recharged from electrical current generated by:
a 150W solar panel mounted on the van roof;
a 200W portable solar blanket;
the vehicle alternator;
a 230V power supply.
---
While we are not free-camping zealots, we do spend nights off the grid when we can, most often when travelling to and from a destination. When our children borrow our van they spend weeks camping without an external power connection.
Energy-sustainable 'free camping', without dependence on an external power supply, requires enough on-board battery capacity to power your van's 12V appliances each day for the period of your stay, along with the ability to recharge your battery/s as their energy reserve is depleted.
Understanding the world of batteries and recharging options can be something of a challenge – it is not always straightforward to determine:
the maximum usable storage capacity of your battery/s;
how much power your appliances draw from the battery/s each day;
your system's capacity to recharge your battery/s  each day.
The net combination of the above factors determines how long you can live off-the-grid while maintaining a sustainable supply of 12V electrical energy. Exact values for each of these factors can be difficult to determine due to a number of variables, including weather conditions, appliance usage patterns, charging sources and (sometimes) over-ambitious claims by equipment manufacturers and suppliers.
Below are links to information about batteries, solar panels, appliance power consumption and battery recharging, and the impact of these variables on our 12V energy self-sufficiency…..
---
---

Batteries – Deep Cycle? AGM? Lithium? This is where all your electrical energy is stored to power your 12V appliances.

---

Appliance Consumption – How much of your stored electrical energy does each appliance use each day? This is critical in determining your requirements for battery capacity and recharging.

---

Battery Recharging – How are your batteries recharged once their charge has been depleted by your 12V appliances?

---

Solar Charging – For full off-grid sustainability your solar panels will need to be able to generate enough output to recharge the energy consumed from your batteries each day (and night).

---

How long without the Sun? – Solar recharging is great – when the sun is shining. How long can you last off-grid when the weather turns bad?

---

Alternate charging options – Recharging your house batteries from a roof-top solar panel is easy – it just works (if you are parked in the sun). But there are other options when the sun isn't shining, or you are camped under shady trees.

---

Solar Regulators – It is critical to control / regulate the electrical current generated from your solar panels to feed into your batteries. But there are regulators and there are regulators.

---

The Bottom Line – Taking all of the above information into consideration, what do you need for a sustainable off-grid electrical energy supply?

---

230V Inverters – These gadgets provide 230V AC output, to run domestic mains appliances from your 12V batteries. If this is something you might need (CPAP, kettle, microwave, sandwich press, microwave oven, coffee maker, hair dryer, etc), read some more about inverters…

---

12V – The Basics – An overview of 12V electrical supply options in a Campervan, Motorhome, or for car and tent camping, including solar recharging of batteries – and keeping your fridge cold.

---

A Portable Fridge & 12V Power on the Go – No Campervan? There are plenty of options for setting up a fridge with a portable 12V power supply, equipped with a solar blanket for camping off the grid in a van or tent.

---
---
Batteries | Consumption | Battery Recharging | Solar Charging | How Long Without Sun? | Alternate Charging Options | Solar Regulators | The Bottom Line
---
Sustainability: Batteries & Solar | Water | Heating