Sustainability: Batteries & Solar | Water | Heating
Heating: Air Heating | Diesel or LPG Air Heating? | Hot Water & Cooking
---
The hot water system and cooking facilities in our van are powered by LPG and/or 230V mains power.
Our LPG is stored in two bottles – 1 x 4.5kg and 1 x 2.5 kg.
LPG sustainability is not really an issue – when free-camping our LPG supply (used only for water heating and cooking) will last a month or two before requiring a refill.
---
Hot Water Heating
Our Truma UltraRapid hot water system is powered by LPG or 230V mains power (or both simultaneously, for an accelerated heating time).
Hot water from the system is available in the shower and at the kitchen sink.
The hot water system is protected by a 30psi pressure regulator on the water inlet, dispensing hot water at the rate of 4 litres per minute. When mixed with cold water this provides continuous warm showering time of around 7 minutes (when connected to town water). 
Initial heating of the 14 litre hot water tank from cold takes about 10 – 15 minutes to be usable. (The manufacturer instructions suggest 20-30 minutes for the water to be heated to full temperature of 60º to 70ºC). Subsequent reheating is considerably faster. The tank reheats as the water is used, so by the time one person has finished showering and drying it is likely that the tank will be fully reheated for the next person to use. (Anecdotal evidence from others suggests that LPG heats the water to a higher temperature than the 230V option, though the 230V heating has always been hot enough for us.) 
Once heated, the water in the well-insulated tank stays hot for several hours without connection to LPG or 230V – which is handy when travelling, for a quick wash of lunch dishes, etc during the day without the need to re-heat the tank.
When we are connected to 230V on a powered site the water heater can be left running 24/7 if required – but we generally don't need to use the hot water from the van at these sites, because a powered site usually includes access to on-site showers and a camp kitchen. (Though this has changed a little since fitting our town water connection!)
 

Instant hot water

A more recent option available in the RV market is the 'instantaneous' hot water heater, heating water on demand, and requiring no pre-heating time. (Similar to popular residential HW heaters.)

Sounds like a great idea, though I have heard mixed reports about instantaneous water heaters for RVs – they are LPG-only (no 230V option), and the temperature is set at 50ºC, rather than 60º or 70ºC as with other heaters. (See: Truma AquaGo). They are also very expensive, compared to the more traditional storage heater alternatives.

These heaters likely use less LPG than storage heating systems, only heating the water that you use. Some cheaper units may also struggle in very cold climates.

Early days, so read the forum reviews, etc.

---

Combo Heating Units

Some manufacturers offer combo heating units – combining air heating and water heating into one unit. Of course there are pros and cons – obviously good to have only one heater for both jobs, but usually there are compromises with water tank size or fuel options, including 230V heating.

There are also electric-only water heating options (12V / 230V) that may be suitable in your particular situation – most importantly a reliable Lithium battery power supply would probably be required for regular use.

Manufacturer info below….

Water-only heaters…

 
The Truma UltraRapid system in our van uses LPG at the rate of 96 gm/h, when it is heating. If free camping we would only heat water when required – maybe 30 mins each day. Which would give us about 80 days of water heating from our 4.5kg LPG bottle.
---
Cooking
We have 4 cooking options…
Kitchen cooktop (3-burner)
Microwave oven
Sandwich press
Weber BabyQ oven (external)
Our 3-burner kitchen cooktop and (external) Weber oven are both powered by LPG.
Our microwave oven and sandwich press require 230V power, but can be powered using an inverter. We also carry a 230V toaster, which can be powered by the inverter.
As mentioned above, at the rate we use gas for our LPG appliances we have a couple of months supply before a refill is required.
Another option (that we haven't yet taken up) is an induction cooktop, These appliances are powered by 230V electricity. Check out the EcoHeat RV Induction Cooktop.
---
Measuring LPG tank level
Often you only know you are low on LPG when your tank runs out – usually half-way through cooking a meal!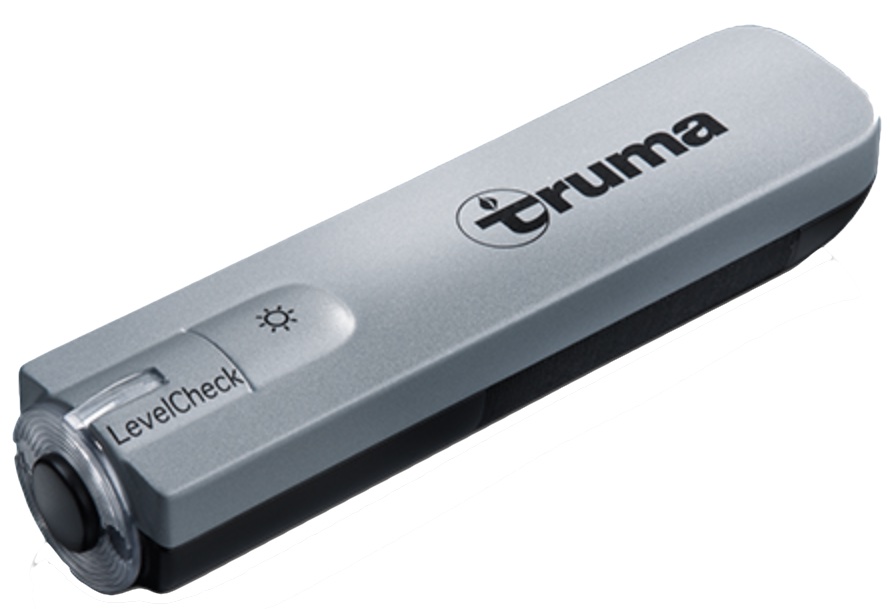 While our main LPG bottle can be swapped out with the spare bottle to resume the supply, it is handy to know how much gas remains in each bottle before leaving on a trip.
We have purchased a Truma Levelcheck ultrasound gauge, which gives an instant indication of the level of liquid remaining in an LPG bottle.
Very handy.
---
Sustainability: Batteries & Solar | Water | Heating
Heating: Air Heating | Diesel or LPG Air Heating? | Hot Water & Cooking