Batteries | Consumption | Battery Recharging | Solar Charging | How Long Without Sun? | Alternate Charging Options | Solar Regulators | The Bottom Line
---
See also:
---
 

Cutting to the chase…

 
 

Are you looking for a quick (and affordable) fridge and portable 12V power setup?

Here is what you need….

 
 

---

 
 

Fridge


Choose a fridge/freezer with a capacity to suit your needs….

 
 

---

 
 

12V Power


Choose a battery & Battery Box combo to create a mini power station, to run your portable fridge from a built-in 12V cig socket, and other devices from USB and Anderson outlets….

Alternative portable battery option (Overnight):

 
 

---

 
 

Battery Charging

Recharge your battery while camping, then, when you return home, keep it topped up and in good condition, ready for your next trip….

Solar charging – on site:  
Mains charging – at home:

 
 

---

 
 

Inverter

Very much a 'maybe' option, but a low-power inverter could be useful if you need a 230V outlet to recharge your laptop, drone or camera batteries. An inverter with a higher output (for coffee machines, etc) is an option if you have a Lithium battery….

More options if you have a Lithium battery…

 
 

---

 
 

Power Station

The really (really) easy alternative option at the upper end of the cost spectrum – a self-contained Lithium power station with a 12V cig socket for your fridge & lights, USB outlets for phones, etc, along with AC and DC charging, and a 230V inverter (500W)…

A 50Ah Lithium battery will go close to providing a similar fridge run-time as a 100Ah AGM battery. (Well, 90% maybe.)

 
 

---

 
 
Note: Most of the Adventure Kings gear is regularly 'on special' – keep an eye on their website or join their mailing list for the latest updates. Ditto for Jaycar, KickAss & iTechWorld, though not as frequent as Kings.
 
 

---

 
 

Read on for more detailed info on portable fridges and 12V power equipment, and setup options….

 
---
Please note: We do not receive any commissions or freebies for any of the equipment mentioned on this page. Any equipment we use has been purchased with our own money and reviewed/tested with no financially-induced preferences.
---
There are plenty of options…….
Fridge and Power to Go
Although CompactRV is focused primarily on Campervans and Motorhomes with built-in appliances and power, we do have plenty of discussions with enthusiastic campers looking to set up the basics at minimal cost – weekends away in the back of a van or in a tent, but still able to run a fridge and lights, and keep phones and other devices charged.
All very doable!
In this scenario we can create a portable power supply, using a 12V deep-cycle battery fitted in a powered Battery Box – then just plug in a portable fridge, and even hook up a solar panel to recharge the battery for longer off-grid excursions. A low-power inverter is also an option to provide a 230V outlet for charging drone and camera batteries, eBike batteries, or a laptop.
A 120 Ah (Amp hour) deep-cycle battery is able to deliver continuous low current output (1 or 2 amps, consuming 1-2 Ah capacity per hour) for a couple of days, without any recharging. A battery of this size is ideal for storing electrical energy for a portable 12V power supply.
Fitting the battery in a powered Battery Box keeps it neat and tidy, while providing plug 'n' play connection sockets for 12V cig plugs, USB outlets, Anderson connectors and a voltmeter – a portable mini power station in the back of your car or van.
Connect a solar blanket (with a controller) and/or a 230V charger and you have a rechargeable portable power system.
Just connect a fridge (and other electronic devices) to make your campsite a mini home away from home!
---
Get the gear to make it happen
Below is a brief summary of some of the portable 12V power and fridge options that are readily available to build a portable camping station.
When it comes to fridges, batteries, solar panels and battery chargers, there is a wide range of equipment available. Prices listed below are 'regular' prices (2023), but much of this stuff is often available with discount pricing at EOFY, Easter, Black Friday sales, etc. And as with most things, you generally get what you pay for.
For short-term casual camping trips, a couple of times a year, you may not need anything too up-market. It all depends where you are staying, how long you will be staying there, and how much money you want to spend.
To help make the examples below more comparable, we have used the same model fridge – a single zone 42 litre Brass Monkey fridge – in each setup (except for the Lux example)….
---
More detailed equipment info….
Fridge/Freezers
Portable 12V fridge/freezers have always been relatively expensive items. Engel and Waeco have been the market leaders for many years, with fridges in the $1500+ bracket. These fridges are extremely reliable, have a SECOP compressor with a proven track record, and usually offer a 5 year warranty.
Over the past few years more affordable brands have appeared in camping supply stores. There are plenty of fridges available these days in the sub-$1000 and sub-$500 categories.
Both Adventure Kings and Brass Monkey offer reliable fridge/freezers in the 'affordable' price bracket….
Kings Stayzcool fridges also include a 5 year warranty, using a SECOP or HUAYI compressor. (Video says SECOP, specs say HUAYI!)
Many Brass Monkey fridges include a battery compartment (battery optional) with a built-in solar regulator, AC-DC charger and DC-DC charger. They also have a Bluetooth app for controlling the fridge from your phone and a 3 year warranty. (Brass Monkey fridges are available at Jaycar and other retail outlets.)
Kings and Brass Monkey fridges include a 12V DC car adaptor, and most (but not all) include a 230V AC adaptor.
---
What to look for when shopping for a fridge?
Zones – The main sub-category to consider when shopping for a portable fridge/freezer is whether it is single zone (fridge OR freezer) or dual zone (fridge AND freezer). For most casual camping applications, a single zone fridge will do the job. If you are family camping and want to be able to store frozen meat, ice-cream etc for the tribe, then a dual zone fridge is the one to go for.
---
Capacity – Next consideration is fridge volume. A 30-60 litre model will likely be sufficient for one or two people for short trips. A fridge with 80-100 litres capacity might be required for a family, especially if splitting the capacity between fridge and freezer in a dual zone model. Visit your local camping supply store and have a look at their display models to get an idea of what size will best suit you. 
---
Size – Related to the capacity of course, the physical size of a fridge is an important consideration, especially if you have a vehicle with limited storage space. A large dual zone fridge can fill the boot of a small car. Fridge specs – with dimensions – are published on retailer's web sites. (A 90L dual zone fridge/freezer is around 1000mm wide and 600mm deep!) Measure up your boot space before making any decisions – and remember that you need ventilation space around the fridge.
---
Power – Most (but not all) portable fridges include a 230V power adaptor and a 12V car adaptor. We have used Brass Monkey examples in the table above because most of their fridges include a 230V AC adaptor and a 12V car adaptor, and many of their fridges also include a built-in solar controller, and an (optional) removable 15.6Ah Lithium battery, with built-in AC and DC charging facilities for the battery. Very handy as a backup power supply for a few hours, or even overnight. (A 230V adaptor is optional on some of the smaller Brass Monkey fridges.)
---
Power consumption – We have tested a 42L Brass Monkey fridge, and measured the amps it was consuming. When the compressor is running, the fridge is drawing just over 3 amps. But the compressor only runs for around 10 minutes each hour (2 x 5 mins) which works out at around 1 Ah of battery capacity per hour. This was measured with the fridge set at 4°C, at an ambient temperature of 25ºC –  the fridge would likely draw a little more current in warmer conditions. At this consumption rate you will get 10 hours run time from the (optional) 15.6Ah battery.
---
ON-the-Grid power – 230V
Staying on a powered site?
All the portable fridges I have seen are supplied with a 12V adaptor (for running from you car while in transit), and most (but not all) are supplied with a 230V AC adaptor. If not included they are available as an optional extra.
If you are staying in a campground with 230V power available, you can plug your fridge straight into your on-site power.
Drive all day with the fridge running on 12V via the car adaptor, then  arrive at your powered site and plug the fridge into your on-site 230V outlet.
No other options required.
Make sure you pack a 15 amp caravan extension lead (at least 20m long), and a power board, and maybe a couple of shorter extension leads for use inside a tent or van.
Be 100% sure that all your gear is in top condition – no damaged plugs or frayed cords. And no connections or powerboards outside in the rain!
230V can be lethal.
---
OFF-the-Grid power – 12V
If your camp site doesn't have a mains power option you will need a portable 12V power supply.
How much power do you need? And how long will the battery last?
Power consumption – Most small portable fridges will be using less than 2 Ah of stored battery energy each hour. This varies, depending on factors such the ambient temperature, if your fridge is in the sun or the shade (keep it in the shade), if it is full of cold food and drinks (better when full) and if it is opened regularly.
Our testing of a Brass Monkey 42L single zone fridge indicated average hourly use of around 1 amp per hour – fridge set at 4°C, ambient temperature of 25°C and fridge in the shade.
If you are running a small fridge, along with LED lighting, and are recharging phones and iPads, etc, you might be using around 30-40 Ah of stored electrical energy a day (24 hrs).
Once you know your total appliance consumption you can calculate your battery discharge rate, and how long before the battery needs to be re-charged.
---
 

How many amps is my fridge using?

An inline power meter can be used to measure how many amps are being consumed by your fridge and other devices……

An inline meter can also be used to measure the input from your solar panel. These meters are widely available online for around $30.

 
---
Battery capacity – The most popular deep-cycle batteries used for camping have a stored energy capacity of 100 – 120Ah (Amp Hours).
If you are using 30-40 Ah of stored electrical energy per day you will be able to run your fridge for 1-5 days without recharging, depending on the type of battery (AGM or Lithium) and how much energy your fridge is consuming (more info below).
Important: Only use a deep-cycle battery, not a vehicle starter battery.
---
 

How long will my battery last?

AGM batteries can supply 50% of their label capacity before they need a recharge. When the voltmeter on your battery box is displaying 12.1V you are down to around 50% capacity.

Regularly running your battery to a lower capacity will reduce the long-term life of the battery.

A 120 Ah AGM battery has a usable capacity of 60 Ah – so it will be able to supply 1 amp of electricity for 60 hours.

If your fridge is consuming 1 Ah of stored energy per hour, you will be able to run the fridge for around 2 ½ days, before recharging the battery becomes critical. A fridge drawing 2 Ah per hour reduces this run-time to 30 hours.

If you have a solar panel feeding electrical current into your battery this run time will be extended significantly.

The trick is to balance appliance consumption (battery discharge) with the input current from the solar panel (recharge). Once you know your appliance consumption and your solar input current, divide the usable battery capacity by the battery's net discharge to calculate how long your battery will last,

For a 120 Ah Lithium battery, use the same calculation, except the 'safe' usable capacity is 80%, or 96 Ah.

 
---
AGM or Lithium battery? – A 120Ah deep-cycle AGM battery has a 'usable' capacity of 50%, or 60Ah of storage capacity.
You can estimate your battery being down to 50% capacity (and needing a recharge) when the voltmeter on the Battery Box is down to 12.1 volts. (This is more accurate when the battery has been 'resting' for a couple of hours without any load or charging.)
An AGM battery of this capacity will be good for a couple of days running your fridge if you are consuming 30 Ah a day. Also be aware that an AGM battery weighs in at around 30kg.
A 120Ah Lithium battery has a 'usable' capacity of around 80%, or 96 Ah of storage capacity, though with a Lithium battery it is not so easy to estimate remaining battery charge based on voltage. Let's make a rough estimate at around 12.6V being indicative of a 20% charge remaining.
A Lithium battery of this capacity will run your fridge for around 4 days without being recharged. A Lithium battery weighs around 12kg*, and costs around three times as much as an AGM battery.
Repeatedly discharging an AGM battery to lower than 50% capacity, or a Lithium battery to lower than 20% capacity will shorten the life of the battery.
*Note: Cheaper Lithium batteries have cylindrical cells (rather than prismatic cells) and are usually a little heavier than 12Kg.
---
Which battery to buy? – AGM and Lithium batteries are available from most camping and electrical equipment suppliers. Check out Adventure Kings, iTechWorld and KickAss to get an idea of battery costs. These suppliers have regular 'specials', so keep an eye on their websites, or sign up to their mailing lists.
There is a wide range of pricing on both AGM and Lithium batteries. Are the cheap batteries any good?
It depends on what you are using the battery for, and how tight your budget is – generally, you get what you pay for.
If I was shopping for batteries for a permanent installation in a Campervan or Motorhome I would be looking at iTechWorld's Lithium batteries at around $900.
However, for a battery to be fitted in a Battery Box to run a fridge on occasional weekend camping trips, a $250 Kings AGM battery will do the job just fine, or maybe stretch the budget to the Kings Lithium battery (when it is 'on special', or included in a Battery Box bundle for around $500) to extend off-grid run time, and not risk damaging your back every time you move the Battery Box.
As always, check for regular marketing 'specials' ….. EoFY, Black Friday, Camping Shows, etc. 
---
---
---
Battery Box – A powered Battery Box provides plug 'n' play connections to the battery, while keeping the battery secure in your vehicle. (Not to be confused with plain vanilla, unpowered plastic battery boxes which are designed only to house a battery, without providing any electrical connections.) 
Powered Battery Boxes are pre-wired with Anderson plugs, 12V cig sockets, USB outlets, a voltmeter (for monitoring the battery charge), and a circuit breaker. Some Battery Boxes are more affordable than others, and others have a wider range of plug sockets….
Kings Battery Box ($60) – good budget option, offering a full range of connection sockets – 2 x Anderson, 1 x Cig, 2 x USB, screw terminals, plus a voltmeter, circuit breaker and isolator switch.

---

KickAss Portable Battery Box ($300) – takes your Battery Box to power station territory, with a stack of additional sockets, including a 175A Anderson plug for connection to a high power inverter (Lithium battery required). iTechWorld have an identical product for a similar price.

---

iTechWorld GoFurther Battery Box ($600) – much the same as the KickAss Portable Battery Box, with the addition of a built-in DC-DC charger and a similar wide variety of ports, including a 175A Anderson socket. (KickAss have a similar box incorporating a DC-DC charger for $800).

---

Kings and iTechWorld (and sometimes KickAss) occasionally offer special pricing for Battery Boxes bundled with a battery. Join their mailing lists to keep up to date with these special offers.

---
Regardless of which Battery Box you choose, the box must be strapped down in your vehicle for safe transportation – you don't want 30kg of AGM battery (or 12kg of Lithium battery) floating around the car in the event of sudden braking, or in a collision!
---
 

Need more outlets?

Use a mini Power Box to distribute power from your Battery Box to multiple outlets, to power up to 11 different devices at once. A typical mini power distribution box includes 6 x USB Ports, 3 x 12V Cig Sockets and 2 x Anderson-style input/outputs.

 
---
Battery recharging
You can extend the run-time of your fridge considerably by recharging your battery.
 

Battery charging in a nutshell….

Use a solar panel (and solar controller) to extend your battery life when you are off the grid.

Use a 230V charger to fully charge your battery at home, or when you have mains power available.
You have three options for recharging a deep-cycle 12V battery:
Solar panel;
Mains supply;
Vehicle alternator.
All three recharging options require a regulator / charger connected between the power source and the battery, to regulate and adjust the voltage and current feeding into the battery.

In the portable fridge and 12V power environment that we are discussing here, a solar panel is the go-to option for extending your battery's life while camping.
For fully charging the battery before you leave on a trip (or when you return), and keeping it in good condition before your next trip, a multi-stage mains charger is an essential option.
Charging your battery from the vehicle alternator requires some permanent cabling and a not-so-cheap DC-DC charger, which is not necessarily appropriate for our portable setup. And keep in mind that your fridge can probably be run from the vehicle when travelling anyway.
---
 

Battery recharging – Solar Controller v 230V Charger

A solar panel generates electrical current when struck by photons from the sun.

This energy generation reaches its peak in the middle of the day, if the surface of the solar panel is perpendicular to the angle of the sun in the sky.

Voltage and current from a solar panel are regulated by a solar controller before being fed into your battery.

A good quality 200W solar panel may be producing 10 amps of current in the middle of a clear sunny day (returning 10Ah of energy to the battery each hour), but may only be generating 4 amps mid-morning and afternoon, and less than 1 amp either side of this. (A cheap 200W blanket may only be producing 6 amps in the middle of the day.)

And that is if the sun is shining. Remember that your fridge will also be using a couple of battery amps per hour throughout the day (and night).

A solar panel will return electrical energy to the battery, and extend the battery's capacity to continue running a fridge and other 12V devices. But you are unlikely to fully recharge a 120Ah battery with a single portable solar panel while the fridge is running, and it may take several sunny days to recharge a battery without the fridge connected.

Even then, the battery may not be fully charged, depending on the quality of your solar controller.

The easy way to ensure a fully charged battery is to recharge your battery with a 230V AC multi-stage smart charger at home when you return from a trip, and to guarantee your battery is fully charged before your next excursion.

A 230V AC charger will deliver a consistent charge rate, day or night. A small 12 amp multi-stage smart charger will (dependably) fully recharge a 120Ah battery in under 12 hours. A charger with a higher rate of charge will recharge a battery more quickly – check your battery specifications for the maximum recharge rate.

 
---
Solar Charging 
A solar panel is the most universal charging option, and can be used anywhere the sun is shining.
Unfortunately it is also a relatively slow charging option, unless you have a large solar panel capacity (ie – multiple panels), and can only generate electricity during daylight hours – if the sun is shining.
If you hook up a solar panel (and controller) that can deliver at least 6 amps (restoring 6 Ah stored battery energy per hour), you should be able to generate enough electricity to extend the battery's usable storage capacity to run your fridge for several days, in sunny weather.
Even though your solar panel might be capable of restoring battery energy at up to 7 Ah per hour (in the middle of the day), your fridge is consuming 1 – 1.5 Ah – every hour, day and night. The net additional current input from the solar panel needs to be enough to not only cover for the fridge usage in the day time, but to also restore the energy used by the fridge the previous night, when no solar input was available.
Solar panels – Options and costs vary depending on the size and quality of the panel and regulator you choose. Consider 150W a minimum sized panel to provide a reasonable output. 
In full sunshine, in the middle of the day, a 150W glass panel will produce about 7 amps.
Solid solar panels with a glass surface are the most reliable and durable panels, but they are bulky to carry. Folding solar blankets have become popular over the last few years, and are rapidly improving. They fold down into a small package, making them easier to carry on a trip.
A solar panel produces electricity at around 20V, and requires a solar controller (or regulator) to connect the panel to the battery. The controller reduces the panel output to around 14V, to avoid damaging your battery.
Which solar panel to buy? For compact storage look at foldable solar blankets. If you have the storage space in your vehicle, a folding hard-frame panel will probably generate more reliable current. It has been our experience that the cheaper panels / blankets produce less current than the more expensive models, especially as they age, and suffer from the travel environment.
Look for at least 150W output, but 200W (or even 300W) will greatly extend your battery / fridge run time….
---
More info: Solar charging | Solar charging – the Nitty Gritty
---
 

How long will it take to recharge a 100 Ah battery?

A rough rule of thumb to estimate AGM battery charge time is to divide the amp hour rating of the battery by the charger's amps rating and then add 10%.

If you are using a 10 amp mains charger to recharge a 100 Ah AGM battery, it will take up to 11 hours to recharge the battery to 100% charge capacity (with no appliances connected).

Hook the battery up to the charger at 8:00pm at night and it should be fully charged by 8:00am in the morning. A 20 amp charger will charge the battery in around 6 hours. (Faster again when charging a Lithium battery.)

If you are charging your 100Ah battery with only a portable solar panel, averaging 3 amps output over a sunny day, it will take around 40 hours (and these are sunshine hours) to deliver enough current to recharge a 50% discharged AGM battery. And that is without any appliances running concurrently to consume current.

 
---
Mains Charging
Chargers that use 230V mains current provide a more efficient and reliable charging option than solar.
Good 230V chargers (smart chargers) charge the battery in multiple stages, tailoring voltage and current to suit the charge state of the battery.
Charging from 230V is a good option for fully charging your battery before a trip, and keeping your battery in good condition between trips. 
230V AC Battery Charger – Before leaving for a trip you should ensure that your battery is fully charged.
Yes, it is possible to pre-charge your battery with a solar panel, but that is not always an option if the weather is crook before you leave, or you don't have a large sunny space to leave it out all day (or for a couple of days).
Solar charging is also much slower than charging from a mains outlet, and may not fully charge your battery.
The only 230V charger to buy is a 'smart' charger. These chargers are microprocessor controlled – they detect the battery's state of charge and tailor their output voltage and current (in 5 or more stages) to suit the battery and its' progress on the charging scale.
A 230V smart charger will charge your battery overnight, keep it in good condition when it is not being used, and guarantee that you start your trip with a fully charged battery. These chargers can be left connected to your (AGM) battery 24/7 and will keep your battery in top condition, ready for the next trip. (Make sure that your Battery Box's isolation switch is turned on when charging.)
The ideal rate of charging for an AGM battery is between 10% and 20% of its capacity – for a 100Ah battery a charger between 10A and 20A output. 10A chargers are cheaper than 20A chargers, and slower charging is not necessarily a bad thing for battery health.
If charging a Lithium battery, make sure your charger has a Lithium profile. A Lithium battery will recharge more quickly than an AGM battery, and shouldn't be connected permanently to the charger.
Which mains charger to buy? There are plenty of 230V AC chargers available at camping and auto supply stores, ranging in price from $80 to $500. KickAss chargers are available online at a reasonable price….
Another plus for the KickAss chargers is that they have an Anderson plug on the output cable, providing a direct connection to the plugs on your battery box, rather than using the more common (and less reliable) alligator clips.
Note: The 12A KickAss smart charger is great for overnight garage use, but I wouldn't install this charger in a Campervan – the fan does get pretty loud when it is in bulk charge mode.
---
 

The Anderson Connection

Anderson plugs are reliable click-together 12V connection plugs.

Most battery boxes include two (or more) 50A Anderson connection sockets.

A wide variety of Anderson adaptors are available, to hook up with other 12V connectors. We have found these adaptors particularly useful for hooking up an inline power meter (see above) for measuring appliance power consumption and solar panel input, etc.

Available online, and at retailers such as Jaycar.

 
---
12V DC-DC Battery charger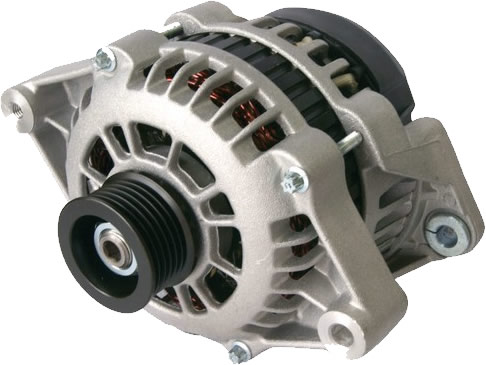 Charging your camping battery from your vehicle alternator when the engine is running requires a DC-DC charger and the installation of some permanent cabling from under the bonnet to the rear of the vehicle – a bit beyond the scope of this discussion about an easy 'weekender' setup with a portable fridge and temporary 12V power supply.
If you want to go down this more permanent path, some more expensive Battery Boxes are available with a built-in DC-DC charger – which will also require a cabling kit to connect to the vehicle alternator / battery…
Or buy a charger and wiring kit to add vehicle charging to a basic Battery Box….
Brass Monkey fridges with an (optional) removable battery have a built-in AC-DC charger, for charging the internal battery from mains power, and a built-in DC-DC charger to charge the battery via a cig socket while travelling in the vehicle.
Most fridges are supplied with a 12V adaptor (cig lighter socket) to power the fridge while travelling.
---
---
 

Thinking of an Inverter?

A possibility – if your needs aren't too great!

An inverter is used to run 230V appliances from your 12V battery – but they suck a lot of amps.

A 100Ah AGM battery can supply continuous current at up to 30 amps. Which means that 300 Watts is about the maximum power draw available..

The other limiting factor is the internal wiring in the Battery Box – most base level battery boxes are protected by a 30A circuit breaker.

Low power inverter options:

Using one of these inverters will be OK for charging a laptop, camera batteries, drone batteries, or an e-Bike battery, so long as you have enough solar input to recharge your deep-cycle battery.

Check the power draw (in Watts) of any 230V appliances you might be thinking about plugging in to an inverter. A laptop charger draws around 50W – 100W. But remember that a 100W appliance is depleting up to 10 Ah per hour from your 100Ah AGM battery, which has a usable capacity of around 50 Ah.

Let's not forget…

A powered Battery Box has a 30A circuit breaker;

An AGM battery can supply continuous current at a maximum rate of of around 30A;

Regular Anderson plugs are rated at 50A

A higher power inverter can be used with a Lithium battery in an appropriate Battery Box, with a high power Anderson socket…

A Lithium battery can supply up to 100 amps continuous current – but base level battery boxes won't be able to support this much current draw.

Either of the above options will require an appropriate connection adaptor….

If you are considering using an inverter with a Lithium battery for running higher power appliances in this kind of environment, you will need a more expensive Battery Box with heavy duty wiring and high-power connections, such as those available from ITechWorld or KickAss (175 amp connection sockets).

---

More info: Installing an Inverter in our Campervan >>>

 
---
But wait – there's more….
The All-in-One Power Station Option
Rather than building a 12V power supply using a powered Battery Box as discussed above, you could take the one-stop-shop shortcut with a Portable Power Station (powered by a Lithium battery) for an instant power supply, with built-in charging and inverter facilities, all in one neat, easy to carry package…
Most power stations include a built-in solar controller for easy connection of a solar panel for off-grid recharging.
A 50Ah Lithium battery will go close to providing a similar fridge run-time to that provided by a 100Ah AGM battery. Well, 90% maybe – and 1/3 the weight.
Certainly worth doing the sums before investing in a Lithium battery and powered Battery Box, and all the charging gear and extras.
---
---
Batteries | Consumption | Battery Recharging | Solar Charging | How Long Without Sun? | Alternate Charging Options | Solar Regulators | The Bottom Line