See also: Campervan Design & Layout | DIY Mini Projects
---
An Extra Room
Our under-annexe area is an important part of our living space.
We have always carried a privacy screen that fits in a channel on the long side of our Fiamma F45 awning. These screens are available from most caravan parts and accessory suppliers.
We don't use this screen too often, but it is very handy when camped for a few days in the one place, especially if we are in a crowded beachside campground in summer, or the living side of the van is facing towards the sun or a busy public area.
Or we just want to create an extra 'room'. This privacy screen can also provide a cosy outdoor living area when the sun goes down.
---
The End Game
While the side screens mentioned above are widely available, screens for the end of the living area are not so easily found. At least not without the addition of horizontal anti-flap poles, etc. All more stuff to take up space in our storage areas.
So, we designed our own 'self contained' privacy screen for the rear (or the front) of the under-awning living area. The screen doesn't completely close the space from ground to awning roof height, but it is fine for our needs, and doesn't require any additional poles – though it does depend on the awning support strut fitting halfway up the side of the van, rather than near the bottom of the van wall….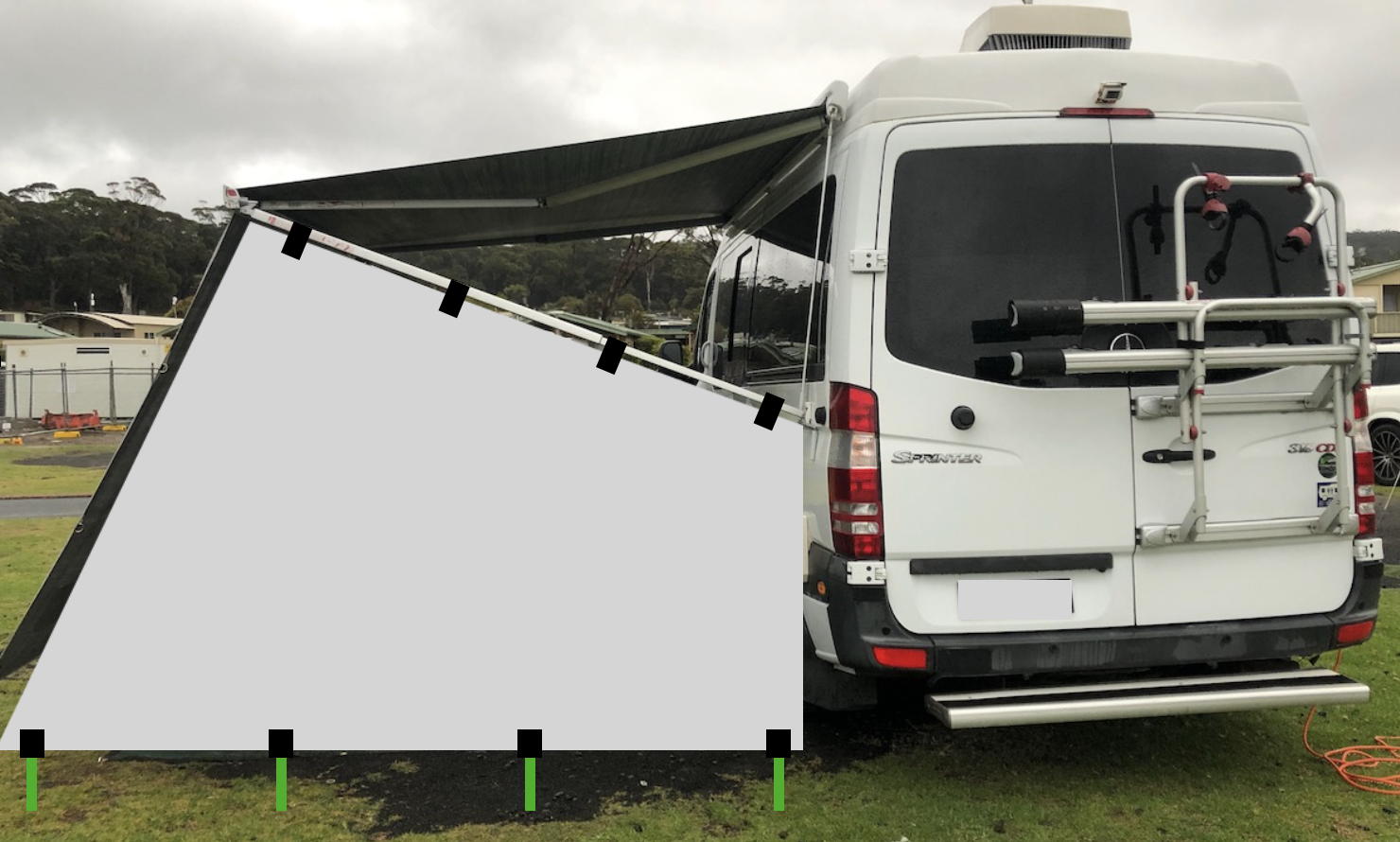 The end screen attaches to the extendable arm that supports the Fiamma awning, using Velcro straps that are permanently attached to the screen. Elasticised peg cords hook through D-rings on the bottom edge of the screen for pegging the screen to the ground, while D-rings on the longer vertical edge of the screen provide the facility to attach the end screen to similarly spaced D-rings on the main long-side screen.
---
On the Road
The screen shown in the planning drawing above was recently manufactured at our local shade-screen workshop. Here is its first run (setup on a concrete slab where it couldn't be easily pegged down)…
So far, so good! The new screen certainly does the job!
---
See also: Campervan Design & Layout | DIY Mini Projects